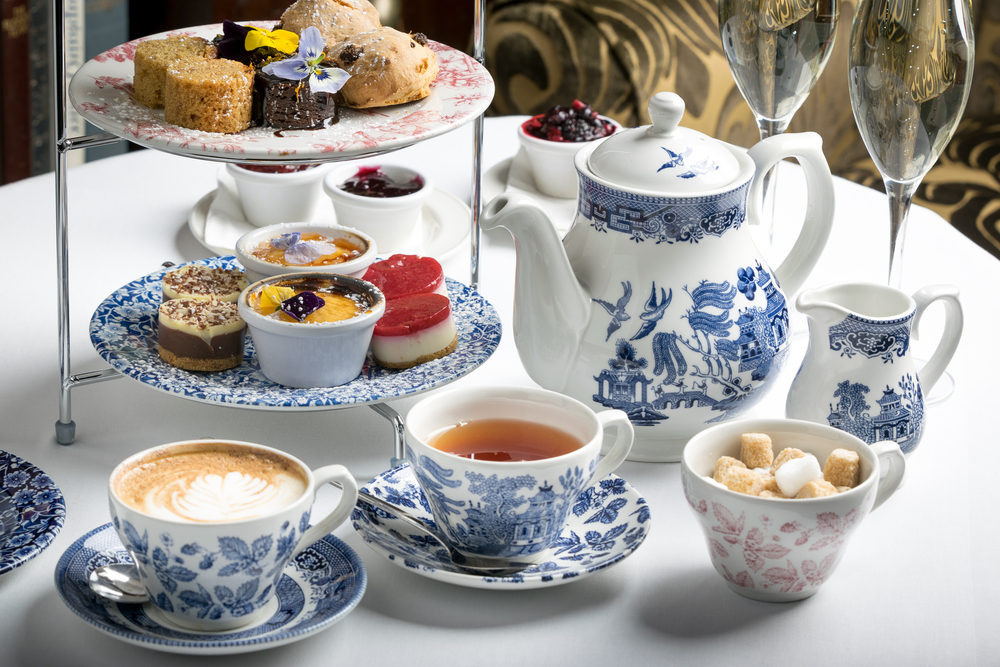 Tea, Scones, and Good Company: How to Host Your Own Afternoon Tea
October 29, 2018 | Arts & Culture
Few things pair with a brisk New England afternoon as well as a warm cup of tea. At the Taj Boston, we've been hosting afternoon tea every Saturday and Sunday for years. Our sophisticated white-glove service is complemented by live music, as you enjoy a pot of brewed tea and traditional treats, including tasty tea sandwiches and petit fours.
I had the opportunity to sit down with Katia Delrio, Assistant Director of Food and Beverage at the Taj Boston, to get her professional advice on hosting an afternoon tea party. We discussed everything from selecting the right teas, crafting the menu, and nailing the ambiance. Let's dive in!
Hi Katia, it's so great to meet you. I would love to get some tips on hosting the perfect afternoon tea. But first, let's start from the beginning. I understand you received a master's degree in Hotel Administration/Management from Cornell University. How did you come to be the Assistant Director of Food and Beverage at the Taj Boston?
I have been with Taj since February of 2017. I started as Director of Outlets and, in January of this year, I got promoted to Assistant Director of F&B.
Can you tell me a little bit about what a normal day looks like for you?
I am an operations person, so it starts and ends with the operation. Making sure our guests are being taken care off and the restaurants, bar, and banquets are running smoothly. Later, I get to do a lot of the planning for new menus, different events, specials, etc. The nice thing is that there is never a day that is the same as another.
Now, let's talk tea. Tell me, what's your favorite thing about afternoon tea?
The peacefulness. People take time to enjoy a cup of tea and stay away from the rush of normal everyday life.
I love that! It really is a great break in the day to spend with friends and sort of reset. What are some of your favorite teas to serve at afternoon tea?
Some of my current favorites are energy berry hibiscus, tropical green tea, and bourbon vanilla rooibos.
I really love a black tea. I've been enjoying the Lady Blue Earl Grey, which has lovely notes of lavender, orange, and vanilla bean. What sort of qualities do you look for in choosing a new tea to serve?
Seasonality is a big one - it is important to have choices that are appropriate to the season. In the summer, we expand our iced tea selection with teas like white blueberry, cherry blossom, and tropical green. For the upcoming holiday season, we are featuring a gingerbread tea, apple cinnamon, chocolate peppermint - flavors that bring that holiday feel.
Chocolate peppermint sounds wonderful! What sorts of non-tea beverages might you suggest someone serve at afternoon tea?
Tea cocktails are very popular. We have about eight cocktails on our menu that are tea infused.
I love that. It keeps with the theme but adds a fun twist. Of course, afternoon tea is not just about the beverages. Food plays an important role too. What kinds of foods pair well with tea?
Traditionally, high tea is served in courses. There's a savory course consisting of finger sandwiches. Next, there's the scones course that must be served with clotted cream and fruit curd. Lemon curd is a classic. Finally, the experience ends with sweets. Petit fours of different varieties are often served.
Afternoon tea, to me, has always been about trying to capture a certain feeling. What can a host do to get the ambiance just right?
Like I mentioned before, afternoon tea is about relaxing and taking a break from the buzz of everyday life. In Great Britain, afternoon tea started as a break for working men between 3 and 4 o'clock. They would take this meal standing up, hence the name "High Tea." With time, it became popular for people of the "higher class" and ladies and gentlemen started enjoying tea.
It shouldn't be a business-like environment. It must be a place where the ambience adds to that relaxation. We have a live guitarist to accompany tea, but if you were doing it at home, having some nice classical music in the background would be a relaxing, classic touch.
Would you recommend certain attire or is there anything that is not appropriate?
There is no etiquette per say, but it is a great excuse for ladies to bring out their nice tea dresses and hats or fascinators. For gentlemen, a sports coat is recommended.
Do you have any final secrets for hosting an afternoon? Anything folks can do to kick it up a notch?
Offering a glass of bubbles with your tea is a great way to make it a more festive and fancy affair.
Thank you for all the great tips, Katia. It was wonderful chatting with you. If anyone would like to experience afternoon tea at the Taj Boston, we have settings every Saturday and Sunday at 12:30pm, 1pm, 3pm, and 3:30pm. We would love to have you.