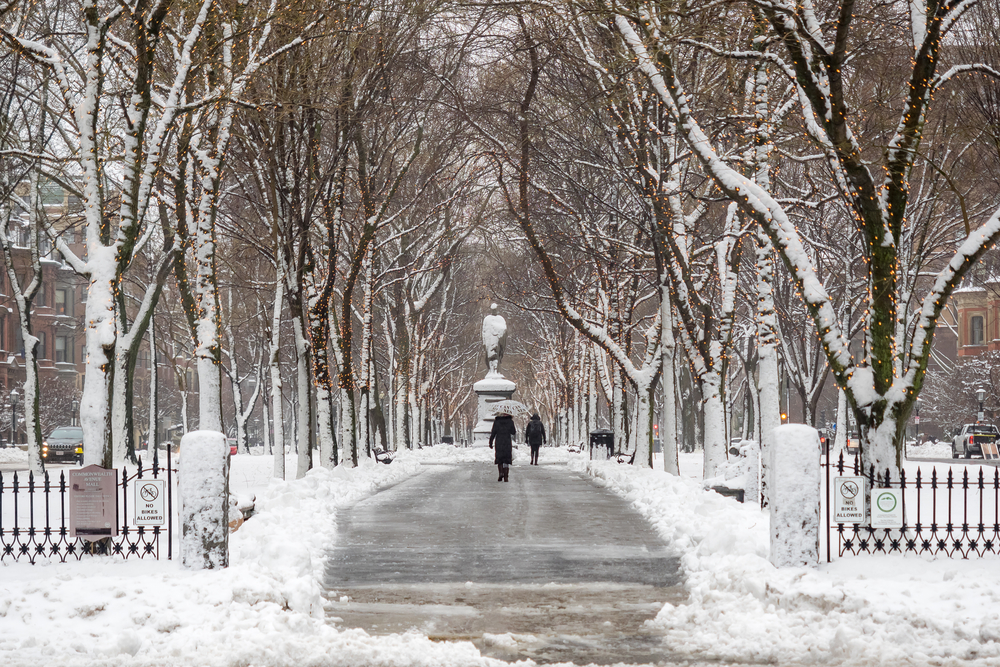 In the Neighborhood: The Commonwealth Avenue Mall
February 27, 2018 | Local Tips
When the architects of Boston's Back Bay neighborhood were in the planning stages of the Back Bay Development Plan, the boulevards of Paris were their inspiration. Arthur Gilman was commissioned to design the avenue that would serve as the central spine of the neighborhood, connecting the Public Garden to the Back Bay Fens. The result would be Commonwealth Avenue and the Commonwealth Avenue Mall, a beautiful greenway lined with large trees and stunning sculptures. This will be the subject of our latest installment of our "In the Neighborhood" series, where we explore the landmarks of Boston's Back Bay.
Back Bay is often touted as one of the greatest examples of urban planning in the country. Originally, the area was a literal bay of mudflats, or "fens." In the early 1800s, an expansive filling project began to turn the coastal wetlands into buildable land. The earth that made up Mount Vernon, a hill that used to exist in Boston's Beacon Hill area, was moved by handcart and railcar to fill Back Bay in. Continued filling saw more gravel brought in by train from nearby Needham. The project transformed the landscape into the area we know today.
In 1856, Arthur Gillman designed a plan to lay out the new streets of Back Bay in a grid pattern, with Commonwealth Avenue being its grand central axis, like the boulevards of Paris. Commonwealth Avenue was carefully designed to be long, straight, and wide, with the Commonwealth Avenue Mall running up the center.
Gillman's design was so well executed that, during a visit to Boston, Winston Churchill exclaimed that Commonwealth Avenue was "the grandest boulevard in North America."
The Commonwealth Avenue Mall makes up the narrowest part of the city's famed "Emerald Necklace," a planned 1,100-acre chain of greenways and public parks. The project was the brainchild of landscape architect Frederick Law Olmsted, who dreamed of connecting the Boston Common and Public Garden to Franklin Park with a linear system of parks.
While not part of Gillman's original design, public art has become an enjoyed feature of the Commonwealth Avenue Mall. The first statue, a stunning likeness of Alexander Hamilton by William Rimmer, was placed on the mall in 1865. Other statues include John Glover, Patrick Andrew Collins, the Vendome Memorial, William Lloyd Garrison, Samuel Eliot Morison, the Boston Women's Memorial, Domingo Sarmiento, and Leif Ericson.
Today, the Commonwealth Avenue Mall is a beautiful park maintained by The Friends of the Public Garden, enjoyed by the people of Boston and visitors alike.
Looking for other things to do in Back Bay? Check out these articles from our "In the Neighborhood" series:
The Boston Athenæum
The Boston Public Library
Copley Square Farmers Market
The Swan Boats at Boston's Public Garden