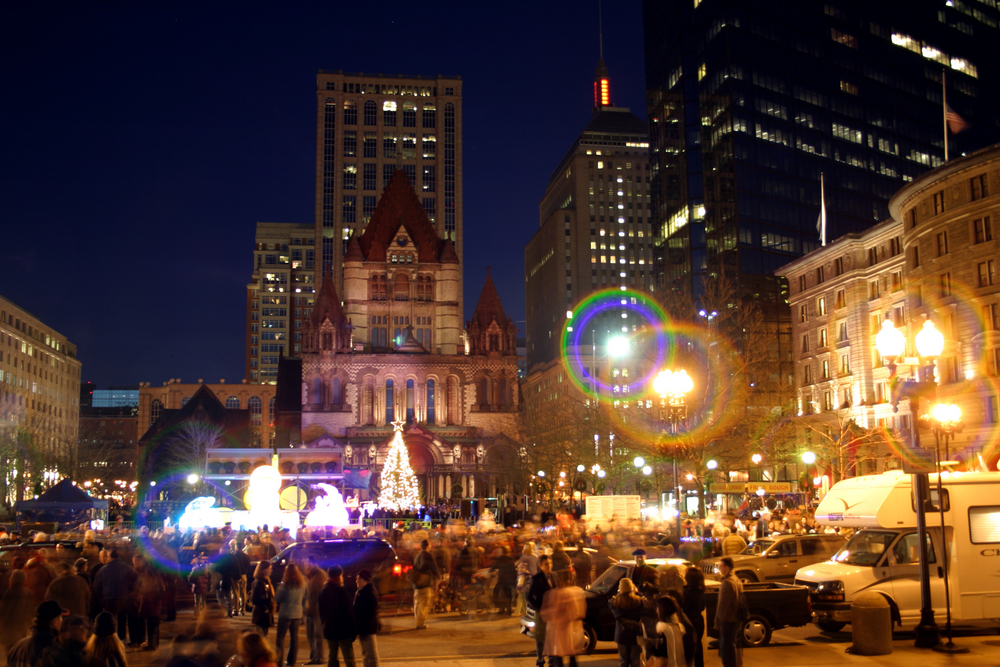 An Insider's Guide to First Night Boston
December 17, 2018 | Boston Events
For many, the turn of the year represents a fresh start. We treat January 1st like a line in the sand, drawn between who we are now and who we want to become. December 31st, on the other hand, is something entirely different. New Year's Eve is supposed to be a night of celebration and there's no bigger party in New England than First Night Boston.
For the past forty-three years, First Night Boston has been rocking the city with a full day of events that includes musical performances, dance numbers, improv comedy, figure skating, ice sculptures, a parade, and, of course, a pyrotechnic and light show at midnight.
Let's take a look at the official agenda: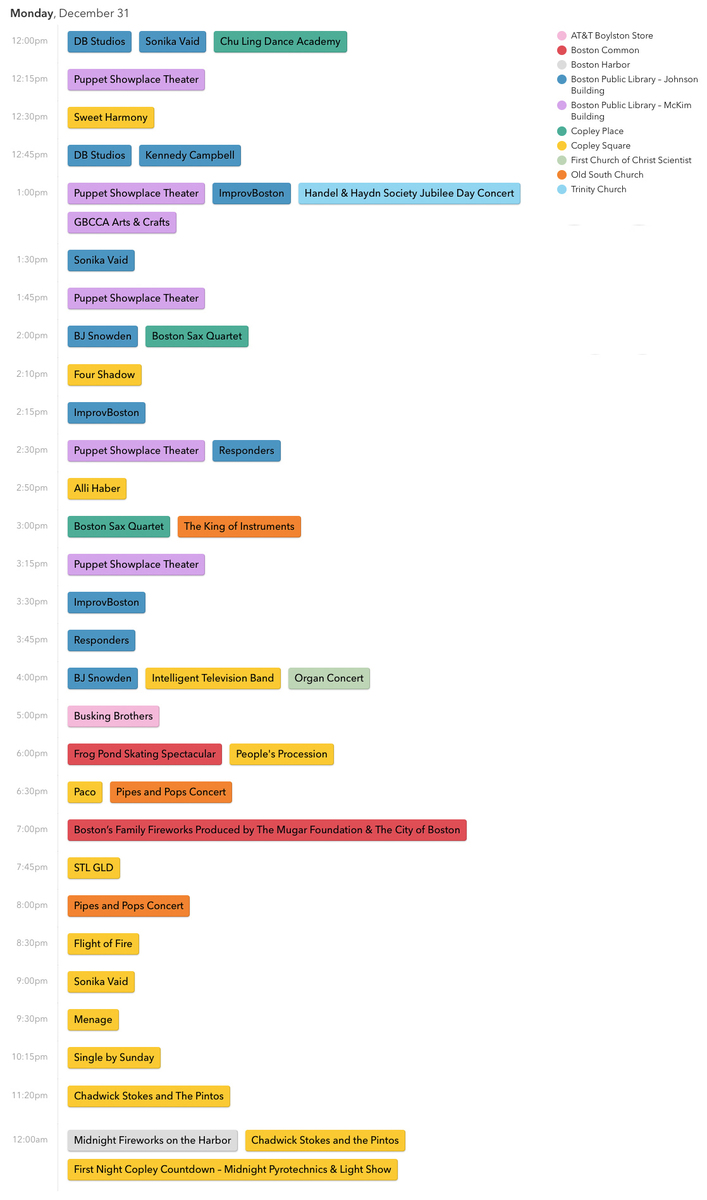 With so much going on, you're going to need a little guidance from an insider to make sure you don't miss a thing. To simplify things, we've created three unique agendas, so you can choose the kind of experience you want to have; family-friendly, rock-and-roll all night, or retrained and sophisticated.
A Family-Friendly Agenda for First Night Boston
First Night Boston is fun for all ages. If you're looking for an exciting way to spend the day with the family, there are plenty of activities to keep the children engaged.
12:15pm - 12:45pm: Puppet Showplace Theater
Start your day in the McKim Building of the Boston Public Library for a puppet show for families and children of all ages.
12:45pm - 1:15pm: Kennedy Campbell
Head on over to the Johnson Building of the Boston Public Library and catch a performance by Kennedy Campbell, a sixteen-year-old singer and songwriter and winner of Miss Massachusetts Teen America.
1:30pm - 2:00pm: Sonika Vaid
Stick around the Johnson Building after Kennedy Campbell for a performance by Sonika Vaid, of American Idol fame.
2:15pm - 3:00pm: ImprovBoston
Enjoy 45-minutes of family-friendly improvisational comedy and sketch acts provided by ImprovBoston, also in the Johnson Building of the Boston Public Library.
3:00pm - 3:45pm: Ice Sculptures
This is a great time to check out the ice sculpture gallery on Copley Square. Marvel at the details the artists are able to carve into the blocks of ice.
3:45pm - 5:00pm: Dinner
After enjoying the ice sculptures, this is a good time to grab an early dinner at one of the restaurants in the neighborhood. Just make sure to head on over to the Boston Common early enough to get a good view of the Frog Pond.
6:00pm - 7:00pm: Frog Pond Skating Spectacular
Join the Skating Club of Boston for a free figure skating show on the Boston Common Frog Pond. The show features national and international competitive figure skaters, including Olympic medalist, Ashley Wagner, soloists, groups, and wee skaters.
7:00pm - 7:30pm: Family Fireworks Show
You don't have to stay up until midnight to see a marvelous firework display. Stick around the Boston Common after the figure skating show for the early family fireworks show.
When You Want to "Rock-and-Roll All Night" at First Night Boston
If you're coming to Boston to party, there's no shortage of activities at First Night Boston for you. The only requirement is that you come prepared to have a good time.
3:30pm - 4:15pm: ImprovBoston
Start your day off at the Johnson Building of the Boston Public Library with improvisational comedy and sketch acts provided by ImprovBoston.
4:00pm - 4:45pm: Intelligent Television Band
After the improv set, join the party over at Copley Square. Intelligent Television Band, an alt rock band from Troy, NY will be taking the stage.
4:45pm - 7:15pm: Dinner
This might be your best time to grab a bite to eat and have a few drinks at one of the many great restaurants in the area. After dinner, you'll be heading back to Copley Square for the rest of the evening.
7:45pm - 8:15pm: STL GLD
You're not going to want to miss STL GLD's performance at Copley Square. This hip-hop duo won Album of the Year at the 2017 Boston Music Awards.
8:30pm - 9:00pm: Flight of Fire
This wild, all-female rock group is a Boston favorite. They always bring it, which has they've been able to open for Bon Jovi, J. Geils Band, Saliva, and more.
9:00pm - 9:15pm: Sonika Vaid
If the name Sonika Vaid sounds familiar, it's because she finished in 5th place on season 15 of American Idol. This 23-year-old Massachusetts-native will blow you away with her incredible talent and vocal range.
9:30pm - 10:00pm: Menage
This might be the set of the evening. This brother and sister duo have been making waves in the alt rock scene almost immediate after forming in 2012. They've toured with Stone Temple Pilots and Billy Talent and their songs have been used on the hit television show "Degrassi."
10:15pm - 10:45pm: Single by Sunday
Coming all the way from Glasgow, Scotland, Single by Sunday will be rocking the crowd with their pop punk stylings.
11:20pm - 11:58pm: Chadwick Stokes and The Pintos
The evenings main event will be led by Chadwick Stokes and The Pintos. Stokes is best known as a founding member of Dispatch, one of the most prominent and popular indie bands in history.
12:00am - 12:30am Copley Countdown and Midnight Pyrotechnics & Light Show
Join Boston in counting down the final ten seconds of 2018 and then ring in the new year with a pyrotechnics and light show set to music.
A Sophisticated Guide to First Night Boston
First Night Boston isn't just for families and party people. There are plenty of events for those who appreciate the finer things in life, classical music, and jazz. If you're looking to spend your New Year's Eve in a more dignified manner, this agenda was created for you.
12:00pm - 1:00pm: Chu Ling Dance Academy
Start your day at Copley Place and watch the graceful movements of this talented, Boston-based dance studio as they perform dances from various Asian cultures.
1:00pm - 2:00pm: Handel & Haydn Society Jubilee Day Concert
Join the Handel & Haydn Society and the Museum of African American History at Trinity Church for a celebration of the 156th anniversary of the Emancipation Proclamation with music and storytelling.
2:00pm - 2:45pm: Boston Sax Quartet
Head on back over to Copley Place to see the Boston Sax Quartet perform a variety of swing, ragtime, and jazz songs.
3:00pm - 3:45pm: The King of Instruments
Witness a performance on Old South Church's 7,000 pipe organ.
4:00pm - 5:00pm: Organ Concert
If you enjoyed the King of Instruments, see Bryan Ashley, Heinrich Christensen, and Jennifer Hsiao play one of the world's ten largest organs at First Church of Christ Scientist.
6:30pm - 7:30pm: Pipes and Pops Concert
End your evening back at Old South Church for a performance of your favorite holiday songs and classical pieces.
I think you'll agree, there really is something for everyone at First Night Boston. Of course, these are just our recommendations. We encourage you to take a look at the complete agenda and enjoy the events and performances that are most exciting to you.
The Taj Boston is a proud supporter and host hotel of First Night Boston. If you're looking for the most luxurious of stays while you're in the city, we would love to have you as our guest.