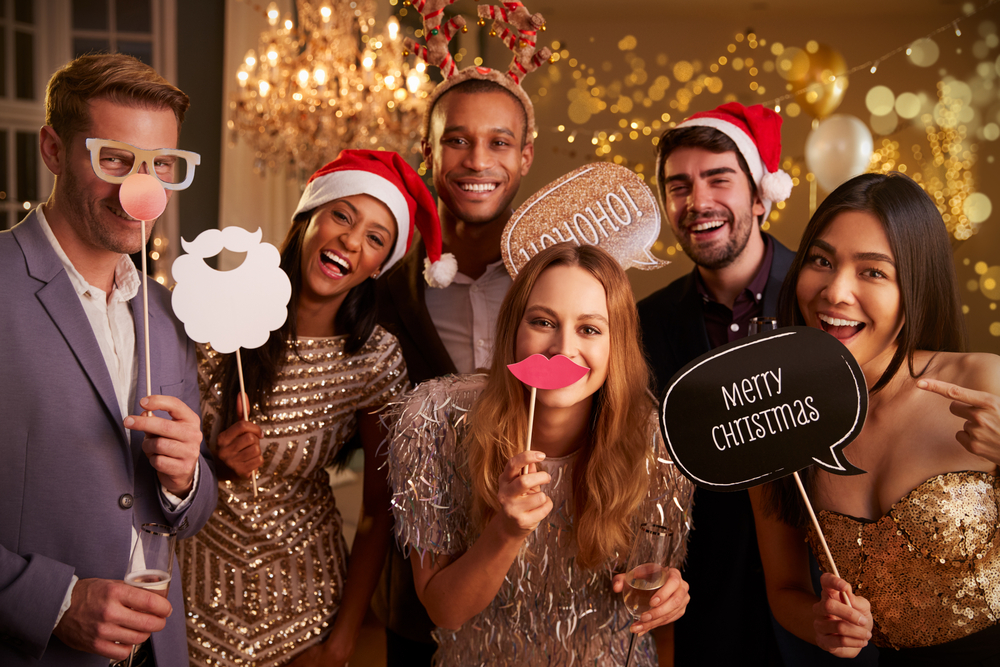 An Expert's Advice on Hosting the Most Amazing Holiday Party
December 14, 2018 | Local Tips
There's something magical about the holidays that brings people together. It's almost as if the world collectively presses pause for a brief moment. All at once, we poke our heads up from the bustle of our daily lives to reconnect with the ones we love.
Except it isn't magic at all. This is the work of an unsung hero – the planner. Every group has one. He or she is the glue that holds a family, a circle of friends, or a community group together. The planner plans the gatherings and hosts all the parties. If you're reading this, it is probably you. Or maybe you want it to be. Either way, this article is for you.
I had the opportunity to sit down with Caroline Hallowell, Catering Sales Manager at the Taj Boston, to get her expert advice on hosting a memorable holiday party. We discussed everything from selecting the menu, nailing the ambiance, and getting folks to turn up. Let's dive in!
Hi Caroline, thank you so much for sitting down with me. Before we talk about party planning, I'd love to know a little more about you. How long have you been at the Taj Boston? Did you start as the Catering Sales Manager?
I have been at the Taj for almost two years. I started as a Meeting & Special Events Manager before transitioning into Catering Sales.
Can you tell me a bit about what a normal day looks like for you?
I sell and plan an array of events for the hotel, ranging from weddings and non-profit events to corporate meetings and receptions. In my role, no two days are the same - which is something I love about it!
I love that! It sounds like you really enjoy your role. What would you say your favorite thing about your job is?
My favorite thing about my job is getting to exceed guests' expectations!
That's a really great segue. I have got to know how you go about exceeding your guests' expectations so let's talk about holiday party planning. What are the bare minimum requirements to throwing an amazing party?
It comes down to three things: a great venue, food, and entertainment!
Tell me more about food. Do you have any secret tricks for getting this one right?
I believe reception stations are the best route for holiday parties. Stations allow for the guests to enjoy a variety of different types of food, interact with the Chef, and mingle with one another.
That's a great idea. It doesn't force you to limit the variety of what you serve. Do you have any fun holiday beverages you recommend be served?
I love anything with champagne for the holidays. It's festive and celebratory for this time of year. A fun champagne cocktail I like to offer my clients is the "Cranberry Sparkler:" Champagne, Cranberry Juice, Fresh Lime Garnished with Cranberry.
Yum! That sounds delicious. Do you have a special recipe for getting the ambiance just right?
Music and lighting. When I think of the holidays, I picture the festive lighting that adorns the city this time of year. A beautiful room encompassed in candle light and lit Christmas trees makes for the perfect holiday ambiance.
I'm glad you mentioned music. Let's talk about the soundtrack. Are you a yay or nay on Christmas songs?
You can never go wrong with incorporating some holiday classics, but you have to play to your audience, so it truly depends on the crowd.
And what about dress? Do you have any hard and fast rules on proper holiday party attire?
I live by the rule that it is better to be over dressed than under dressed. A nice cocktail dress for women and a suit for men are the best ways to go.
The past few years, themed holiday parties seem to be more common and, in your role, I'm sure you've seen your fair share. What are some of the more common trends you're seeing?
The most common themes I see are the classic winter wonderland, casino night, and the roaring 20s.
I attended a roaring 20's party a few years ago and had a blast. We had so much fun in our costumes and it made for a great night. What is the most memorable holiday party you've ever been to?
I attended a winter lodge themed holiday party. They went all out with a wooden barn that food was served out of, real Christmas trees, a s'more station, and lots of faux snow!
It's not a party without people. Do you have any advice on invitations and getting people to turn up?
Don't wait until the last minute. If you send your invites with plenty of time for your guests to RSVP, they are more likely to come. With so many parties this time of year, you want to ensure your guests say yes to yours first!
You're right. Sending the invitations late would be a huge mistake. What other common mistakes do first-time party planners make?
Not having enough food or seating.
On the flip side, what's the one thing that can elevate a party from good to amazing?
Interactive entertainment. Photo booths and games give your guests plenty of things to do throughout the evening and really engage with one another.
That's a great tip. Okay, final question. Hosting a party can be stressful. Do you have any advice for helping keep the process stress-free?
Plan your party with professionals! We can take the stress away from you!
Thank you for all the great advice, Caroline. It was wonderful chatting with you. For more holiday cheer, check out some of the holiday excitement going on around the Taj.